Największy na świecie niekomercyjny serwis geocachingowy
GeoŚcieżki - skupiające wiele keszy
Ponad 600 GeoŚcieżek w Polsce!
Pełne statystyki, GPXy, wszystko za darmo!
Powiadomienia mailem o nowych keszach i logach
Centrum Obsługi Geokeszera wybierane przez Społeczność
100% funkcjonalności dostępne bezpłatnie
Przyjazne zasady publikacji keszy

GeoPaths
Niebieski szlak - Geościeżka nr 1: W drodze na Błędne Skały

GeoPath details
Mentor (?)MentorThe mentor is the person who created the GeoPath.
ronja

Cancel Save
Change status
Completed

89

times
Scoring

80.3

Points
Number of caches

9

(

0

/

0

/

0

)
% cache finds required to complete GeoPath

80

% Cancel Save ( Geocaches)
Set
GeoPath type

Geo-sketch

Publication date

29-09-2018

Cancel Save
Owners
ronja, Park Narodowy Gór Stołowych
GeoPath's description
Witaj Wędrowcze!

Przed chwilą zostawiłeś swoje auto na parkingu, a może doszedłeś drogą lub przyjechałeś autobusem, rowerem – nie ma znaczenia. Za moment przejdziesz obok czujki, która zapisze Cię jako kolejnego turystę, chcącego poznać urodę Błędnych Skał, niezwykłej formacji piaskowców w Górach Stołowych. Pamiętaj – znajdujesz się na terenie Parku Narodowego Gór Stołowych. Przeczytaj regulamin, dostosuj się do jego reguł. A potem ruszaj niebieskim szlakiem na spotkanie z przygodą :) Przed Tobą prawie 3 kilometry drogi w górę (czyli około godziny marszu dla średnio zaawansowanego turysty), a po drodze 7 punktów, które pozwolą przystanąć na chwilę, znaleźć kesza, porozglądać się po otoczeniu, rozkoszować przyrodą. Tak więc ruszaj! U celu czekają kolejne wyzwania :)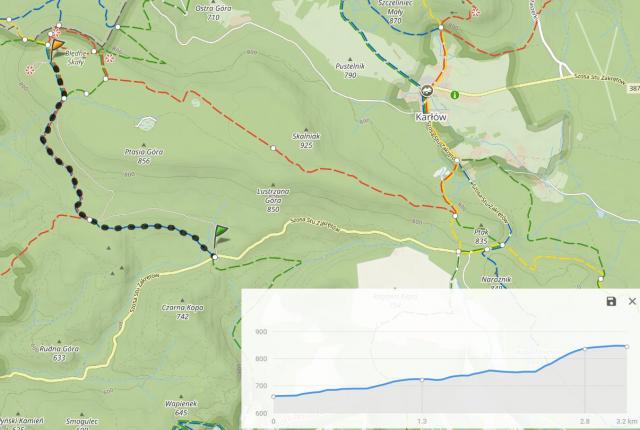 Caches in this GeoPath Niebieski szlak - Geościeżka nr 1: W drodze na Błędne Skały
include following caches in gpx file:
---
inactive
ignored
placed by you
watched
founded
Logs count in gpx file*:
5
*) - for each cache. Available only for "GPX" files
OK

Statistics for this GeoPath Niebieski szlak - Geościeżka nr 1: W drodze na Błędne Skały
Your progress on this GeoPath


0% (You found 0 from 9 Caches in the Geopath)
Show more statistics


Hide statistics