Największy na świecie niekomercyjny serwis geocachingowy
GeoŚcieżki - skupiające wiele keszy
Ponad 600 GeoŚcieżek w Polsce!
Pełne statystyki, GPXy, wszystko za darmo!
Powiadomienia mailem o nowych keszach i logach
Centrum Obsługi Geokeszera wybierane przez Społeczność
100% funkcjonalności dostępne bezpłatnie
Przyjazne zasady publikacji keszy

GeoPaths
Błędne Skały - Geościeżka nr 2: Labirynt Błędnych Skał

GeoPath details
Mentor (?)MentorThe mentor is the person who created the GeoPath.
Maleska

Cancel Save
Change status
Completed

54

times
Scoring

54.72

Points
Number of caches

5

(

0

/

0

/

0

)
% cache finds required to complete GeoPath

80

% Cancel Save ( Geocaches)
Set
GeoPath type

Touristic

Publication date

29-09-2018

Cancel Save
Owners
ronja, Park Narodowy Gór Stołowych
GeoPath's description
Witaj wędrowcze!

Byłeś kiedyś w medynie – starej części arabskich miast, pełnej krętych zaułków, wąskich uliczek, wysokich domów przesłaniających niebo? Zbłądziłeś kiedyś w nieznanym miejscu? Jeśli nie, to Labirynt Błędnych Skał pozwoli doświadczyć podobnych przeżyć. To wyjątkowe miejsce w Górach Stołowych, na grzbiecie Skalniaka, podobno stworzone w szale przez samego Liczyrzepę. Będziesz mógł podziwiać niebo z punktu widokowego, by za moment schylać się do ziemi w wąskiej, ciemnej szczelinie. Zobaczysz dziesiątki skał, niektóre o bardzo ciekawych nazwach. Będziesz liczyć nogi Kurzej Stopki, podziwiać Okręt, zaglądać do Kuchni. Pamiętaj jednak - nie schodź ze ścieżki. Jesteś na terenie Parku Narodowego Gór Stołowych. Po drodze znajdziesz kesze. Powstały z inicjatywy Parku. Warto je docenić, zadbać by długo służyły kolejnym poszukiwaczom skarbów. A może przy okazji odnajdziesz skarb Liczyrzepy?
Z ważnych informacji: wstęp do Labiryntu jest płatny, "standardowe" przejście może zająć ok. 40 – 60 minut. W okresie zimowym szlak jest zamknięty.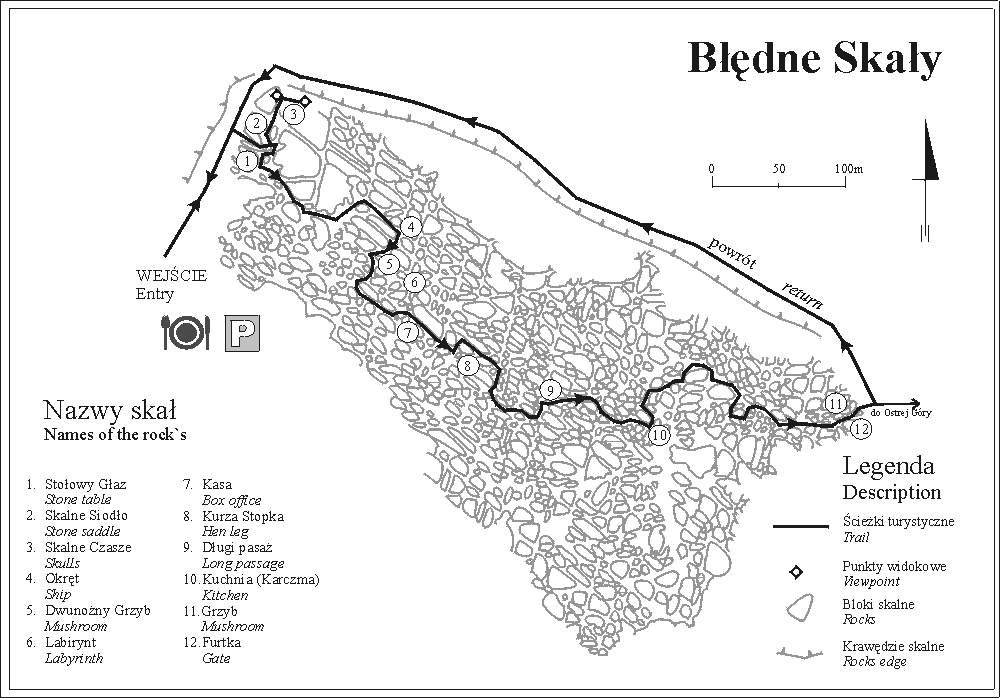 Caches in this GeoPath Błędne Skały - Geościeżka nr 2: Labirynt Błędnych Skał
include following caches in gpx file:
---
inactive
ignored
placed by you
watched
founded
Logs count in gpx file*:
5
*) - for each cache. Available only for "GPX" files
OK

Statistics for this GeoPath Błędne Skały - Geościeżka nr 2: Labirynt Błędnych Skał
Your progress on this GeoPath


0% (You found 0 from 5 Caches in the Geopath)
Show more statistics


Hide statistics